Greetings!
After many years of collecting Tolkien calendars, encouragement from several other collectors, and a great deal of help from my son, I created this website. I had the name made up before I ever started typing this text. So it is a bit presumptuous to call it a complete guide. However, I do encourage comments and additions from visitors and other collectors in the hope that it will become so. Especially, you will note many "variant" calendars throughout the list: different versions of the same calendar (changes in format, language, etc.) If you know of a calendar not listed here, please email me!

Also, you will note the title lines in many (73) of the calendar entries are links (green and underlined.) Click on these to view the monthly illustrations of that particular calendar. Many of these come from the Calendar of the Month feature (as seen below.) But I think that I will now feature the older calendars in the CotM section, and I am now adding the newer ones as I collect them and time permits. There are more calendars issued every year than there are months. So I would otherwise never be able to enter all of them if I relied solely on the CotM!

One note: I am not a collector of the Lord of the Rings movie-related calendars (with a few exceptions.) There was an excellent compilation by Sean at collecttolkien.com. Jeremy has rebuilt that list on his Tolkien Collector's Guide website.
Calendar of the Month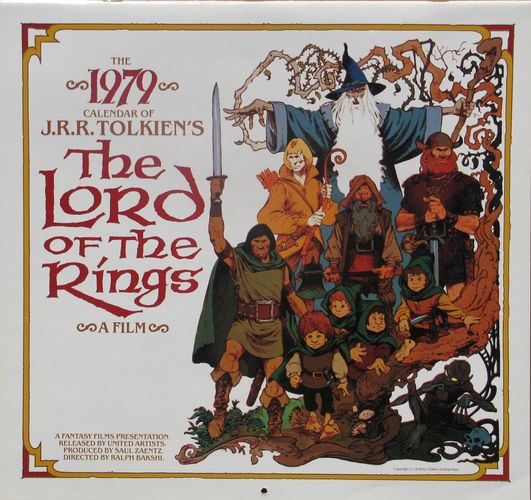 THE CALENDAR OF THE MONTH for FEBRUARY is the Ballantine Books "The 1979 Calendar of J.R.R. Tolkien's The Lord of the Rings - A Film" Illustrations from the "Lord of the Rings" animated movie by Ralph Bakshi.
January |February | March | April | May

June | Centerfold | July |August |September

October | November |December | Back Cover




Last revised: 10 February 2013
As of this date, there are 385 calendars listed here.